'Tis the season to be jolly! With the Christmas countdown now officially on its way, holidays just on the horizon, and even some snow(!!), this week has been a bit of a doozy. With more festival announcements than we can possibly write up flying at us on the daily, we rounded up some of the biggest and best festival announcements from the past week and condensed them down to one easy to digest bulletin. So sit down, relax and enjoy the RIOT festival roundup.
Mad Cool add Pearl Jam, Kasabian, Rag 'n' Bone Man, Sampha and more
Having taken to announcing one act a day for the past month, Spain's Mad Cool Festival ramped it up a notch this week, announcing dozens of acts. Alongside the above, Marmozets, Perfume Genius, Snow Patrol, The Black Madonna, and Japandroids have been added to the bill. With tickets on sale this Tuesday, Mad Cool is set to be, well… Mad Cool…
.@PearlJam @KasabianHQ @snowpatrol @RagNBoneManUK @sampha @perfumegenius @Japandroids @realwashedout @goldpanda @MARMOZETS @morgan_musica ¡Todas las nuevas incorporaciones de #MadCool2018 en nuestra playlist de @SpotifySpain! https://t.co/g1EyZx90Gd pic.twitter.com/5ytM8WpchT

— Mad Cool Festival (@madcoolfestival) December 3, 2017
Local Natives & Halfnoise to set sail on Parahoy!
Paramore's own party boat – Parahoy! – will be seeing a return this year. Taking to the seas for four days of music, sailing and unmissable fun, the world's best party boat has unveiled Local Natives, Judah & The Lion, MeWithoutYou, Now, Now, Half Noise and MIJA for its 2018 edition. Already sold out, there's still a chance to hit the high seas with Paramore if you register for the waiting list over here (or, you know… stowaway). Parahoy! sets sail on April 6th, from Miami.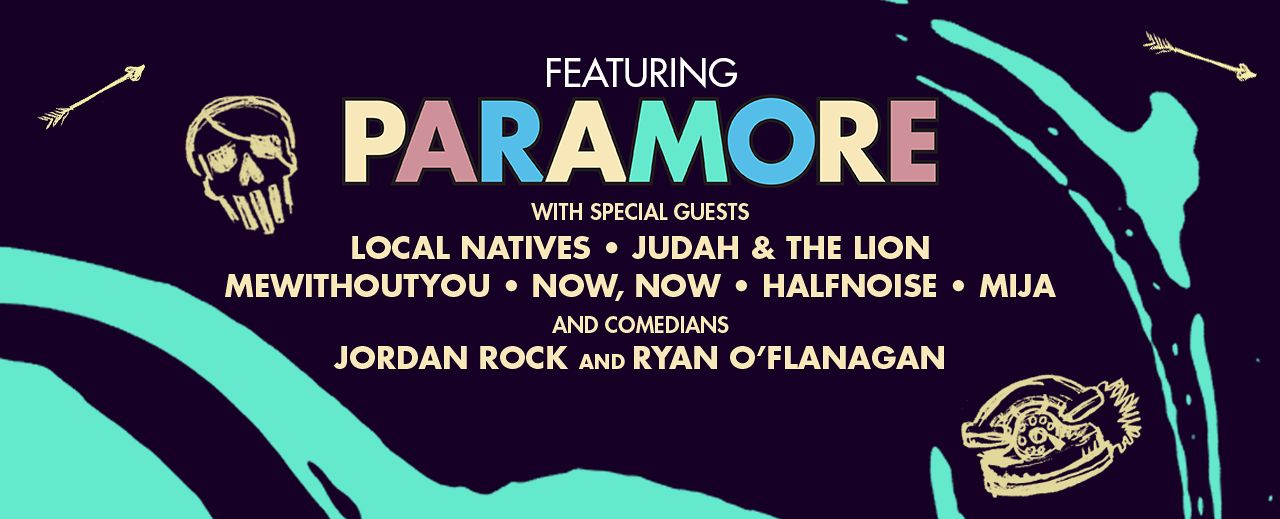 Live At Leeds launches 2018 lineup
Leading the charge for this year's Live At Leeds lineup are Circa Waves and Peace, both set to bring huge sets to the city centre. The festival will also see some of the best up and coming acts take over Leeds for one day only. Almost like a mini Great Escape. With thirty names announced for the festival we do not have the time, nor the word count, to list them all here, but check out the tweet below for the full list.
Here we go the first names for #LAL2018 incl. @CircaWaves @PEACE4EVEREVER @BSPOfficial @horrorsofficial @Blaenavon @springkingband @nickjdhodgson @AnterosOfficial & loads more! TKTS ON SALE NOW > https://t.co/DT9lf7QspH #LAL2018 PART OF #LEEDSINTFEST pic.twitter.com/2uEBMx4uEM

— Live at Leeds (@liveatleedsfest) November 29, 2017
Black Honey and Deap Valley join QOTSA at Finsbury Park
Ah yes, if you thought the QOTSA Finsbury Park one-dayer couldn't get any better you were, well, quite simply wrong. Joining Iggy Pop, Run The Jewels, The Hives and (obviously) Queens of The Stone Age in North London next June are Deap Valley, Black Honey and Skinny Girl Diet. With more to be announced, QOTSA will no doubt be the best thing to happen to the park since Arctic Monkeys headlined four years ago.
FINSBURY PARK TICKETS ON SALE NOW !!
SAT. 30 JUNE 2018
GA: https://t.co/j9o8aFIL9m
VIP: https://t.co/l8LlKCHF9f
w @Iggypop @runjewels @The_Hives @DeapVally @skinnygirldiett
& more to be announced. pic.twitter.com/qul0btx0oK

— QOTSA (@qotsa) December 1, 2017
Nick Cave and The Bad Seeds join All Points East
Keeping our focus on London, All Points East once again struck a blow to our wallets this week as they announced Nick Cave's one day extravaganza. Joined by the incredible Patty Smith and St Vincent, All Points East have pushed an already high bar even higher for London's festivals. Set to bring six days of music to London, get all the info you'll need on All Points East over on our festival profile.
Tickets now on sale! ❯ APE Presents ❯ Nick Cave & The Bad Seeds ❯ Sunday 3rd June ❯
❯ @nickcave & The Bad Seeds
❯ Patti Smith and her band
❯ @St_Vincent
❯ @courtneymelba and many more to be announced.
❯ https://t.co/PrO5CE8dVH ❯ pic.twitter.com/vIRm32BmRC

— All Points East (@allpointseastuk) December 1, 2017
Lovebox and Citadel announce move to Brockwell Park
Shifting home from Victoria Park, London's Lovebox and Citadel will continue their story in Brixton's Brockwell Park. Early bird tickets for the two festivals are available to buy now.
#Lovebox18. Brockwell Park. ?

Early Birds on sale now from just £39.50: https://t.co/QbiILqccJF pic.twitter.com/zbVg8dSbfW

— Lovebox 2021 (@LoveboxFestival) November 28, 2017
NOS Alive announce Wolf Alice, Future Islands and more
Taking over Lisbon's shoreline for a weekend in July, NOS Alive is one of Europe's finest festivals. With its ever-expanding lineup the Portuguese festival this week added Pearl Jam, Real Estate, Wolf Alice and Future Islands. With a three day ticket only €149, the festival provides outstanding bang for your bucks. For tickets, info and more, follow the link in the tweet below.
.@PearlJam • 14 Jul • NOS Alive Festival
Tickets / Bilhetes: https://t.co/1N2ip0SJZH#PearlJam #NOSalive #visitPortugal pic.twitter.com/rpfjboxtGW

— NOS Alive (@NOS_Alive) December 1, 2017
Hideout Festival announces second wave of names
Taking us to sunny Croatia, Hideout Festival this week unveiled a sea of new names, amongst them Disciples, Jamie Jones, Mistajam, Max Chapman and more. For all the info you need on the festival check out the tweet below.
We have announced a second wave of acts coming to Zrce Beach this June! @djheidi , @mistajam , @Denney_Music , @makandpasteman , @WazeAndOdyssey , @djzinc and many more! Tickets on sale now: https://t.co/gbMgoD55qG pic.twitter.com/2GCZ0gFbhl

— Hideout Festival (@hideoutfestival) December 3, 2017
And that's your lot. The flood of names will undoubtedly be keeping our keyboards busy and our wallets furtively checking over their shoulders, so be sure to check back here, because we'll be letting you know about the next batch soon.